I want to thank all of my friends who contributed pictures to this montage. As I write this, I remember very well all of the beautiful people (and dogs!) I have had the honor to be photographed with in the past years. I hope we can share a frame together in the near future. I know the smile on my face will last a lifetime. I've seen all of these pictures dozens and hundreds of times, but they are all special as are each of you. Thank you for the privilege of being invited into your homes, offices and lives. You make me happy and bring the spirit of Christmas to my life throughout the year.
Love,
Santa Joe
Santa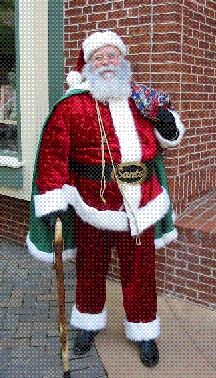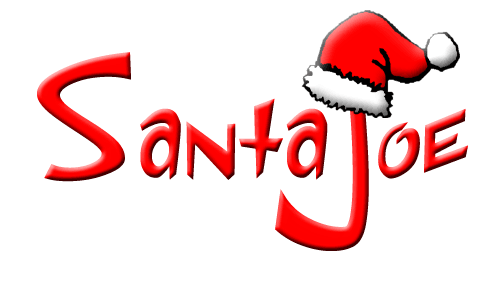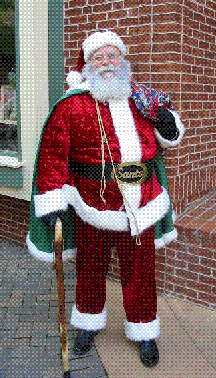 Welcome to the wonderful world of SantaJoe on the internet.
Christmas is a special season for individuals and corporations in Minnesota. A big part of the festive nature of the season is a certain Jolly Old Elf. Pick the right Santa Claus for the job, and you've got a hit on your hands. Make a mistake, and you miss a chance that simply won't be back again - and that would break Santa's heart. (Yes, Virginia, even the Jolly Old Elf has tender feelings, and it just wouldn't be right for all of Saint Paul to be kept up nights listening to Santa singing off key due to a broken heart over a botched event during the holidays.)
Whether it's a home visit, a corporate event, a public appearance, a festive office party for the holidays, anywhere your family is gathering, you want to have a Santa with a real beard who has a handle on the right toys, the directions around Minneapolis and Saint Paul, and the entertainer spirit that makes every visit a Christmas spectacular.
That's why SantaJoe is the only choice when planning your holiday event. He's Safe, Sober and reliable. A professional Santa Claus and entertainer for many years, he's never a had an unhappy customer, never a missed appearance, and he has thoroughly house-trained his reindeer.
SantaJoe is based in the Twin Cities of Minneapolis & Saint Paul, but he's available to travel practically anywhere in Minnesota or the Upper Midwest if the project sounds like fun. And, frankly, he considers corporate events, Christmas and holiday parties, family gatherings, office parties, personal appearances, friendly gatherings and just about anything in St. Paul, to be fun and worth a visit from this lovable entertainer.
Available for parties, parades, interviews, television commercials, radio spots, public events, corporate events personal appearances, breakfast with Santa, home-visits, photo events, charity visits to hospitals and other places children need a boost, SantaJoe is there for you when you need him.
SantaJoe's list of friends and customers includes hundreds of families in the Twin Cities area, dozens of corporations (including General Mills, Honeywell Federal Credit Unions, Mary's Place, The Minnesota Vikings (which explains the nifty picture below), and Best Buy), major motion pictures, and private holiday parties galore. His list of personal appearances is long, just like his real beard, but he's most at home in the friendly towns of the Twin Cities. He's willing to travel outside of the Twin Cities, (not just Minneapolis and Saint Paul for our Jolly Old Elf,) as far north as Virginia and as far south as Iowa... And that's a long way from St. Paul!
Just something about a Purple Santa Suit that says "GO VIKINGS!"
Photo Courtesy of Photogen-inc.com

SantaJoe is also involved with many different charitable organizations, and was the Official Santa for Toys For Tots for many years. He's very proud of his work in St. Paul & Minneapolis with the children that are served by the United States Marine Corps Reserve program, and hopes that you support it when you go shopping for your Christmas toys. After all, it's the individual whiskers that make up a real beard, and individuals like you make Toys For Tots the successful program that others envy. A good group, and a great place for orphan toys to spend the holidays! Set up a drop site in the Twin Cities, collect some toys by making it a corporate event, or even a friendly competition in your club or within your home. Who knows, perhaps Santa Claus himself will make a home visit or personal appearance to scoop up the toys and deliver them to the Marines.
So, this year, when you plan your holidays, plan on SantaJoe! Have real beard - will travel, and delight your holiday party, be the favored entertainer at a children's party, charm a corporate event, make a special personal appearance to surprise a loved one, or zip in for a home visit anywhere in St. Paul, Minneapolis, the greater Twin Cities and out state Minnesota. He's ready to dazzle when you need him.
You can reach SantaJoe by clicking on the "Contact SantaJoe" button at the top of the page.
Santa Joe is a member of
The North Star Santas!